Posted on March 31, 2020 in General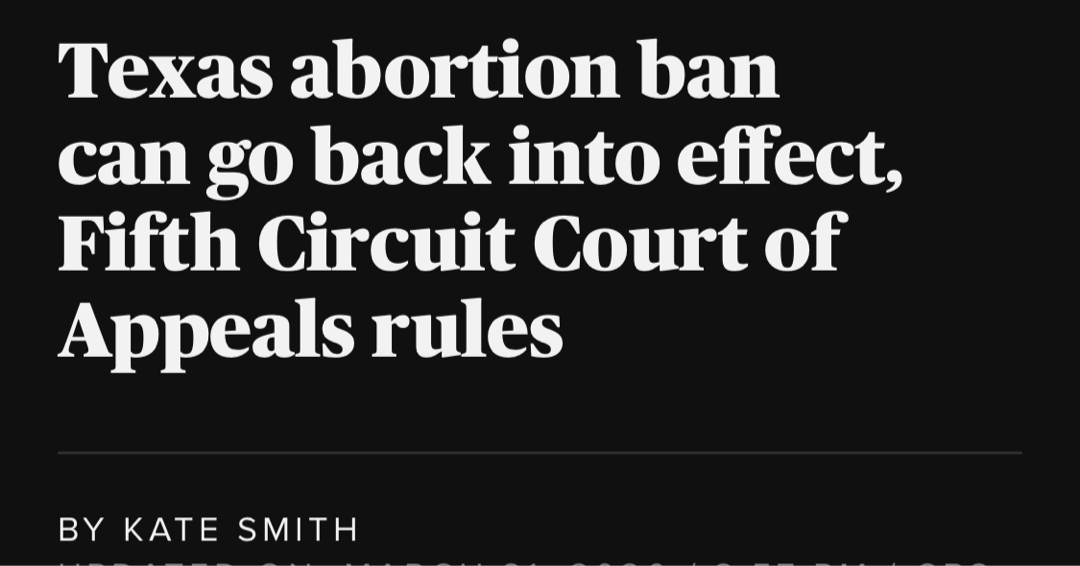 CAUSE TO CELEBRATE (AND ACT)!!
 In the midst of chaos, fear, and this crazy virus…here is a reason to celebrate!! On March 21, in the face of fear and loss of life, one action taken by our Governor, Greg Abbott, would certainly save lives! That is, the lives of over 1,000 Texan babies every week that the restriction on nonessential surgeries and procedures is in place.
"Texas Gov. Greg Abbott announced on March 21 that all nonessential surgeries and procedures "not immediately medically necessary to correct a serious medical condition of, or to preserve the life of, a patient" should be postponed.
 That applies to "routine dermatological, ophthalmological and dental procedures, as well as most scheduled healthcare procedures that are not immediately medically necessary such as orthopedic surgeries or any type of abortion that is not medically necessary to preserve the life or health of the mother," according to Abbott's statement.
On Monday, the state's attorney general backed up Abbott's executive order by warning licensed health care providers and facilities "including abortion providers" that "failure to comply with an executive order issued by the governor related to the COVID-19 disaster can result in penalties of up to $1,000 or 180 days of jail time."
 "No one is exempt from the governor's executive order on medically unnecessary surgeries and procedures, including abortion providers," Attorney General Ken Paxton said. "Those who violate the governor's order will be met with the full force of the law.
https://abcnews.go.com/US/abortions-considered-essential-medical-procedures-amid-covid-19/story?id=69767056
 Aren't we all learning how to tolerate the rocking of the boat and raging seas, at least in those moments that we are trusting in our Savior and the peace He provides? It seems that every 12 hours we are learning something new, taking new precautions, and adjusting our lives. No different with the Executive Order from our Governor.
"The rulings came in a series of legal actions aimed at blocking steps by various Republican-led states cracking down on abortion during the pandemic.
The first of the decisions involved Texas Attorney General Ken Paxton's announcement last week that abortion providers were covered by a state order that required postponement of non-urgent medical procedures to preserve hospital beds and equipment during the pandemic.
 U.S. District Judge Lee Yeakel in Austin ruled that Paxton's action "prevents Texas women from exercising what the Supreme Court has declared is their fundamental constitutional right to terminate a pregnancy before a fetus is viable."
 The Texas lawsuit was filed last Wednesday after clinics said they were forced to cancel hundreds of appointments for abortions across the state.
 "Abortion is essential healthcare, and it's a time-sensitive service, especially during a public health crisis," said Amy Hagstrom Miller, president of Whole Woman's Health, an abortion provider with three clinics in Texas and a plaintiff in the case.
 "To the politicians who used this global pandemic to push their anti-abortion agenda, shame on you," she added."
https://www.reuters.com/article/us-health-coronavirus-usa-abortion/u-s-judges-stop-texas-ohio-alabama-from-curbing-abortions-during-coronavirus-crisis-idUSKBN21H3B1
I personally know, as do all of you, many dentists, orthopedic surgeons, dermatologist, etc. who have canceled surgeries and procedures following the directions of our Governor. Texas is defining nonessential surgeries and procedures as, "not immediately medically necessary to correct a serious medical condition of, or to preserve the life of, a patient". How can any argument for an abortion that certainly ends the life of a child be made to deem that procedure as essential? It is nonsense and evil! Not to mention, pregnancy is more than a medical condition, it is an innocent life.
Ms. Miller, I am praying for you and your family and friends during this most difficult time in our nation and our country.  Procedures that take, not preserve, innocent life, using critically necessary and desperately needed masks and personal protective equipment (PPE), should not be considered essential and a constitutional right.  We are all sacrificing rights in order to deal with this pandemic. Credible, life-giving and saving physicians are canceling hundreds of appointments in an attempt to extend life and deal with this pandemic.
Yet, another twist and turn, and now comes the current reason to celebrate…The United States Fifth Court of appeals to the rescue! Today, the decision is stayed and the abortion ban is now in effect!
 Please continue to pray for our leaders, our doctors, and all of those serving on the front lines. As President Trump has stated, we are at war! This, however, is an easy way in the midst of difficulty, chaos and loss of life…to save lives! Please email or call our Texan Leaders and thank them for standing strong and let them know that we are with them and praying for wisdom and strength!!
Pray, America. Repent. Seek His Face…Our God will heal our land!
Strength to strength…let's go!!
Candy
Greg Abbott –
(512) 270-1852
Info@GregAbbott.com
Dan Patrick –
(512)463-2100
info@dapatrick.org
 Ken Paxton –
(512) 463-1782
communications@oag.texas.gov
All Articles